Get Involved
Do more in space exploration.
The Planetary Society finds fun ways to get involved. Get active and volunteer, attend space events in your local area, participate in space-related contests, and help spread the adventure of space with the next generation.
More Ways to Get Involved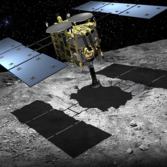 Messages from Earth: Hayabusa-2
The Planetary Society and Japan Aerospace Exploration Agency (JAXA) invite you to send your name and message to Asteroid 1999 JU3 and return to Earth on Hayabusa 2 (returning to Earth in 2020).
Don't be a bystander for Planetary exploration. Be an advocate. We'll show you how to write Congress, how to call your representative's offices, and more.
They are Watching the Skies for You!
Our researchers, worldwide, do absolutely critical work.

Asteroid 2012DA14 was a close one.
It missed us. But there are more out there.
Become a Space Advocate
We are at a crucial turning point in the history of planetary exploration.
You can help.
Together, we can get the budget we need to support our planetary endeavors and Save our Science.
We've done it before. Let's do it again.
Send your name and message on Hayabusa-2.
Let's invent the future together!