Share Your Story
You must be logged in as a Planetary Society Member to share
SHARE NOW! »
My Sky
We're looking for images you've taken of your sky—whether those images are of galaxies captured through a telescope or perhaps pictures of an incredible night sky, an eclipse, a star party, or a rocket launch. We can't guarantee that we'll publish every image and story—but we will look at each and every one and will showcase as many as possible here on our website and a few might make it to our magazine, The Planetary Report. We look forward to seeing your Sky. Share Your Sky »
My Story
Tell us about why you love space exploration, what got you excited in the first place, when inspires you, or whatever you would like to share with your community of space fans! In our newsletter each month we will ask a different question. Share Your Story »
Question for November:
Where were you when Curiosity landed?

---
MY SKY Images from Our Members
The moon and it's reflection at Fox Lake in Yukon Canada-September 2011.
Comet PanSTARRS just before it disappeared behind a wall of clouds over the Olympic Peninsula.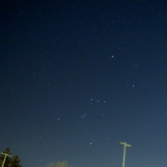 Orion - March 16, 2013 - taken with a Canon powershot camera in northern New York.
---
MY STORY Stories From Our Members
More Ways to Connect and Get Involved
Reach out to your community and spread the word about planetary exploration.
They are Watching the Skies for You!
Our researchers, worldwide, do absolutely critical work.

Asteroid 2012DA14 was a close one.
It missed us. But there are more out there.
Become a Space Advocate
We are at a crucial turning point in the history of planetary exploration.
You can help.
Together, we can get the budget we need to support our planetary endeavors and Save our Science.
We've done it before. Let's do it again.
Send your name and message on Hayabusa-2.
Let's invent the future together!