See other posts from November 2008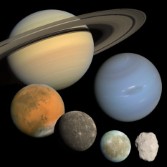 The Antarctic search for meteorites: introduction
Posted By ANSMET team
2008/11/25 01:10 CST
Topics: Earth analogs
Hi everyone, Ralph Harvey here, Principal Investigator of the US's Antarctic Search for Meteorites program, or ANSMET for short. ANSMET is a project of Case Western Reserve University, funded by the National Science Foundation, NASA, and working in close cooperation with the Smithsonian Institution. The upcoming field season will be our 33rd since the program got started in 1976.
The next couple of posts will introduce this year's research by describing who is going and where we're going. Throughout the season we hope to post new blog entries on a daily basis. One of our party is already in Antarctica, making pre-season preparations; the rest of us follow in just a few days. We'll spend a bit more than a week in McMurdo Station before flying out to our remote field camp. See the following posts for more details, or the main ANSMET website.
They are Watching the Skies for You!
Our researchers, worldwide, do absolutely critical work.

Asteroid 2012DA14 was a close one.
It missed us. But there are more out there.
Send your name and message on Hayabusa-2.
Let's invent the future together!