See other posts from June 2012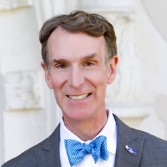 Celebrate Curiosity at Planetfest 2012
staff-blog-post
Posted By Bill Nye
2012/06/28 03:35 CDT
Topics:
Join me at Planetfest™ 2012: Curiosity Knows No Bounds, August 4 and 5 in Pasadena, CA.
Space exploration brings out the best in us humans, and Planetfest is a celebration of the amazing Curiosity rover's historic landing on Mars! We will all get to know more about our planetary neighbor and the spacecraft unlocking its secrets.
I'll be there both days, so join me, and thousands of space fans, as we:
Witness the landing, with the best live NASA feed and experts on-stage sharing their insights…and the drama.
Be part of our live Planetary Radio show,
Explore hands-on science activities for kids,
Meet the scientists and engineers behind the mission,
Enjoy an out-of-this-world art show.
Seating is limited, so get your tickets today.
Can't make it to Pasadena? We're working with science centers, museums, and other groups around the world to bring you Planetfest Worldwide. We also will be web casting the two-day Pasadena event so you can participate from home. We want everyone, everywhere to witness and celebrate this extraordinary landing on Mars.
For the latest information about Planetfest 2012 and to purchase tickets, visit planetfest.org.
See you on Mars!...and at Planetfest!
They are Watching the Skies for You!
Our researchers, worldwide, do absolutely critical work.

Asteroid 2012DA14 was a close one.
It missed us. But there are more out there.
Send your name and message on Hayabusa-2.
Let's invent the future together!